Booster seats come in three types; combination seats, high back car seats, and backless boosters.
Your child will usually need a different type of booster seat depending on their age or weight.
If the child is old enough not to sleep or slump over when riding in the car, then a booster seat is a very good option to consider.
Boosters are just transition seats that the child will use before they move to using seat belts and after they move from front facing and rear facing car seats.
"The main function the child booster seat is to lift the child up so that they can be at the height required to fit into the vehicle's seat belts"
​An important hing to remember is that there are booster seat laws 2018 for every state and country that you need to follow when buying and using the safety seat.
High Back Booster Seat Age
There are two types of car seats, the backless and the highback booster car seat.
As the name suggest the high back booster car seat is a type of seat with a back and the backless is a car seat with no back.
With a high back seat you have a guide to thread the vehicle's shoulder belts to the car seat to ensure a snug fit for the growing child.
hence the question, how long does a child need a booster seat?​
Child booster seats are used by a child between the ages of 4 and 11.
A child can sit in a harnessed booster seat when they are about 4 years old and they weigh in at about 40 pounds and have exceeded the weight and height limits of their convertible car seats.
Best High Back Booster Car Seat: Graco Affix Youth Booster
Graco Affix Youth Booster Seat with Latch System
Out of the FAA high back booster car seats the Graco Affix Youth Booster Seat is the best car seat with its ease of use and installation, two mode sitting, comfort and child self buckle capabilities.
Why High Back Booster Seats
High-back booster seats offer more protection for the trunk of the child's body and side protection for the child's head in the instance of a collision
Given that they come with a headrest, they will offer a more comfortable ride for your child especially for those long journeys
Most top rated high back seats come with a detachable back support which means you can detach the back when the child is older to make them more portable.
Best Rated High Back Booster Seats
Rating
Image
Product
Our Rating
Weight
Price

1

Graco Affix

Youth Booster

9.8 Pounds

2

Evenflo Big Kid High Back

8.6 Pounds

3

Cosco High Back

2-in-1

6 Pounds

4​

Chicco KidFit

2-in-1

10.2 Pounds

5

Britax Pioneer

G1.1

21 Pounds
What makes the Best High Back Booster Seats
High weight and height limits
Easy to install and comes with a manual
Smooth machine washable fabric
Easy to use and accessible harness and base adjustment
Adjustable height
High safety ratings
Top safety ratings with adjustable headrest and back
Best High Back Booster Seat Reviews 2018
The Graco Affix youth booster Affix with LATCH system is the best selling booster car seat on the market offering dependability, practicality, intuitive and easy to use design which has been a hallmark of the Graco brand of car seats for well over half a century
The Graco seat is the best for the independent child that want to do things themselves as it's easy and intuitive design makes it easy for them to buckle themselves in. It comes with LATCH system that makes it stable when the child is climbing in and the unique front adjustment makes for a secure installation
The Graco high back booster car seat also boasts some of the highest crash test ratings of any high backed seat in addition to having all manner of safety and convenience features for your child.
You actually do get two seats in one as the Graco Affix booster seat is a 2-in-1 car seat that can work as a high back booster seat between 30-100 pounds and then when the child is older you can make it into a backless belt positioning booster between 40-100 pounds
As we all know toddlers love their toys and things and this is always tough to handle when you are on the road. Well the Graco car booster seat comes with kid approved storage for child items and integrated cup holders to ensure the drinks stay where they are supposed to
The headrest and back are fully adjustable to ensure you get the proper fit as the child grows and also to provide ultimate comfort and safety of your child
If you are at that stage when the child wants to buckle themselves into their car seat, then you will love the Graco Affix. It is the easiest high back booster car seat to install with its front adjust LATCH system that the child will love to use
It is not only about convenience as the Graco is the safest high back booster that is designed with EPS energy management and has been tested and passed the most rigorous safety standards
Intuitive, practical, and dependable
LATCH makes it excellent for independent child
Rigorously tested for safety
checkEasily adjustable as the child grows
Cup holder is installed on the wrong side
The Cosco high back booster car seat 2-in-1 is a car seat made by Cosco, a juvenile products that asserts that its mission is to make products for smarter living so that parents can have fun with their kids
In keeping up with this statement the Cosco is an excellent child safety seat which will last for a long time. It takes the child from a forward facing harnessed car seat that is used in forward facing booster mode with a five point harness before it transitions into a belt positioning backless booster
The 2-in-1 high back booster is a safe car seat for your baby coming with a five point harness for when the child is younger before it becomes a backless belt booster as the child grows older
Hate dealing with stained dirty cup holders? You will be happy to know that this car seat comes with removable machine washable cup holders so that you can get rid of all that grime and dirt from spills
Just like with your cup holders, the seat pad will inevitably get dirty and you definitely do not want to to drive around with dirty seats. The Cosco comes with a machine washable seat pad that is machine washable and dryer safe
It is the ultimate backless booster that grows with your child as you can easily adjust the shoulder belt guides to give the child a perfect fit depending on their height
Backless and high back all in one
Machine washable cup holders
Machine washable seat pad
checkBuilt to grow with the child
Does not come with strap covers
Evenflo High Back Booster
One Hand adjustable height
Committed to the well-being, safety and development of children the Evenflo high back booster seat is an excellent child safety seat that has been a favorite of parents for many years, receiving thousands of positive reviews
The Evenflo high back is one of the safest booster car seats out there that has met and exceeded federal crash safety standards. In this regard it provides your child with head and side impact support and protection so that you can rest easy.
Moreover, it has an adjustable back in the high back mode so that you can extend the height of the seat along with the growing child for better comfort and fit.
It is a 2 in 1 booster is a lightweight and practical car seat that easily converts to a backless belt positioning booster seat when your kid is old enough. This means that you do not have to buy a new car seat.
The child gets to have access to all their drinks while on the go as the Evenflo comes with integrated dual cup holders.
The safety of your child is guaranteed with energy absorbent lining and foam which not only offers safety but also a comfortable ride especially for toddlers who may be problematic if they are uncomfortable
The seat does remain presentable for its lifetime of use given that it comes with a machine washable seat pad that you can remove and clean whenever it gets dirty which is inevitable with children of the age range of the seat
Excellent support and side impact protection
Lightweight and practical seat
Comfortable and safe
checkMachine washable seat pad
Does not have a five point harness
It is a plain looking seat
The Britax Pioneer Combination is the best Harness Booster seat made by Britax, a company that has made its name making some of the most innovative yet practical designs of car seats for children of all ages.
The Britax is a smartly designed car seat that your child will use as a harness car seat from when they are two years old or 25 pounds up to 70 pounds. The Britax can then transition into the traditional belt positioning booster seat between 40-70 pounds
The Pioneer Combination Seat comes with the proprietary safe cell protection system that offers optimum side impact protection while still offering utmost comfort for the child.
Made for safety and ease of use the Britax Pioneer is the easiest car seats to use with easy to access and use anchors and lock belt systems
The baby gets to have protection from the ISOFLEX LATCH connection system enhances safety as it secures the car seat on the vehicle seats preventing them from becoming a projectile in a crash
Your child will be comfortable and safe in the Britax combination car seat which comes with a deep energy absorbing and foam lined headrests and shell that make for a smooth ride
Britax high back booster seat with harness comes with secureguard belt positioning clip prevents any submarining in the instance of a collision
It is a great fit for you if you have a child who grows fast as it has with an easy to adjust headrest and 9 position harness that you can change with the push of a button to fit the growing child
Removable backrest makes for easy transition to backless booster
Innovative smart design
Optimum protection in the instance of a crash
easy to transition car seat
checkEasy to use install and uninstall
Rattles a lot when there is no passenger in it
The Chicco Kidfit 2-in-1 high back booster seat is an excellent choice of car seat made by the Chicco brand that makes the best in practical yet highly innovative baby products of which the Kidfit is among its best
The Chicco Kidfit 2 in 1 is the best belt positioning booster that works best for toddlers transitioning from from the convertible car seat. The car seat comes with most of the modern comforts and conveniences for the child including cup holders and backrests for the growing child.
The Chicco kidfit booster is also a safe and comfortable car seat with several adjustments positions including removable backrest to convert it into a booster when the child is old enough. It also comes with all manner of conveniences for both you and your child
The Chicco provides your child with 10 positions making it the best of the grow and go car seats as you can easily adjust the seat for maximum comfort and fit as the child grows
Best travel booster seat with built in cup holder on the side of the car seat compared with the tamper proof latch lock on the front compartment keeps snacks within easy reach and your car clean
Installation and getting the kid in and out the Chicco Kidfit is a breeze as it comes with easy installation through LATCH and Supercinch technology that makes it easy and super safe to use
Easily remove the back and convert the high back into a backless car seat when your child is older. Other things you can easily remove include the machine washable pad and arm rest covers.
Easily converts into backless booster
Comfortable and safe
Fold away space saving cup holders
checkEasy in and out and installation
Hard for the child to buckle themselves in
How to Install Booster Seat with Back
Best High Back Booster Car Seat: Graco Affix Youth Booster
Graco Affix Youth Booster Seat with Latch System
Out of the FAA high back booster car seats the Graco Affix Youth Booster Seat is the best car seat with its ease of use and installation, two mode sitting, comfort and child self buckle capabilities.
Backless Booster Seats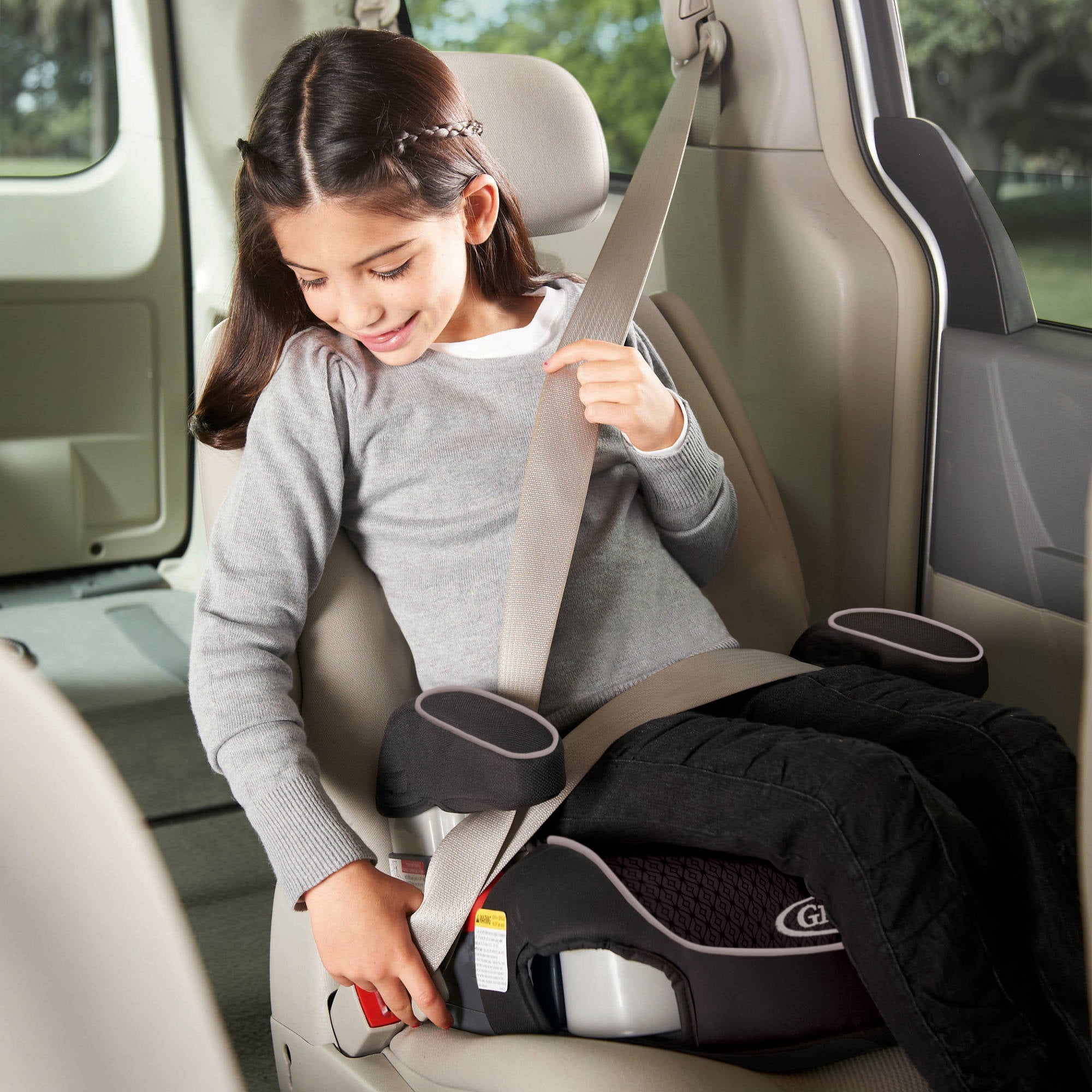 Child in Backless Booster Seat
Backless booster seats are more or less specialized cushions that lift your child off the seat of the car allowing for a better seat belt fit.
Most boosters will have a seat belt path that will guide you on how to install them on the vehicle car seat.
"20% of booster seats are misused. Most common misuse was improper lap belt position. The lap belt should be placed across the hips and thighs of a child, but in 9%–12% of booster seats, it was placed across the stomach or ribs of the child". nhtsa
It is always advisable to read the manufacturer instructions and your vehicle owners manual when installing your backless booster seat to ensure the safety of your child.
Nonetheless, most backless boosters will either have you install the seat belt through either rings or metal tubes on either side of the seat.
Best Backless Booster Car Seat: Graco Affix Turbobooster
Graco Backless Turbobooster
Out of the backless booster car seats reviewed the Graco Backless Turbobooster is the best car seat with its ease of use and installation, space saving, comfort, and child self buckle capabilities.
Why Backless Seats
​Parents and kids alike love the backless booster car seat because of the following reasons:
They are compact, lightweight and typically cost less than a high back or the best combination car seat
They not only save you money but also space given that they are small and hence are not suitable for small cars or big families or just anyone that needs a lot of space.
Older children prefer them given that they are not so babyish as compared to other car seats.
Since they ate lightweight and compact they are among some of the best convertible car seats for small cars in 2018​.
Best Rated Backless Booster Seats
Rating
Image
Product
Our Rating
Weight
Price

1

Graco Backless TurboBooster

5.1 Pounds

2

BubbleBum Backless

6 Pounds

3

Evenflo AMP Select

3.8 Pounds

4​

Cosco Topside Booster

2 Pounds

5

Chicco GoFit

Belt-Positioning

5 Pounds
Important Car Booster Seat​ Rules
When can a Child Use a Booster Seat
A child that is too small for the vehicle belt system
A child that when sitting on the vehicle seat cannot bend their knees when their back is on the back of the vehicle seat.
A child that is under 4'9″ and weighs between 40-80 pounds, is aged between 4 and 8 and is at the least 35 inches in height.
A child that is over the height limitations of your forward facing convertible car seat or no longer fits in its harness.
​Your car seat needs to be as high as the child's ears for it to be safe to use a backless booster seat. The reason for this is that the bottom of the skull is usually at the same height as the top of the ears. As such, if the seat is too low the child could suffer from whiplash in case of a crash. If the seat is too low you should use a high back booster which will provide protection from whiplash thus preventing serious injury to the child in the instance of a crash.
The Car Seat Lady
Best Backless Booster Seat Reviews 2018
The Graco booster car seat is the very best and is in fact a very popular budget car seat that is a toned down version of the Graco Affix Youth booster car seat and comes with all the safety features and conveniences of that top car seat
If you are one for utmost comfort and safety of your child there is none better than the Graco Turbobooster youth booster. The safety seat is designed for children between the ages of 4 and 10 weighing in at between 40-100 pounds up to 57 inches in height
Made for late toddler hood to just about teen-hood, I have found this baby booster car seat to be very convenient as the child can easily get in and out the car seat without much trouble. The children also enjoy the hideaway cup holders, and colorful designs that this seat comes in
When it comes to safety and style nothing beats the Graco Turbobooster which lifts up the child to make them fit in the vehicle seat belt and ride in style that comes in the elegant colors and design of the Turbobooster
For your convenience this child safety booster seat comes with a machine washable pad so that you can clean the seat when it gets dirty.
For the kid you do not have to worry about messes in the car as the Graco booster seat comes with hideaway cup holders for all their snacking and drinking needs in case you go on a long drive or you are a parent who does daily commutes with the kid
Given that kids grow fast at this stage you can ensure they are as comfortable as possible in this seat which allows you to adjust the padded armrests and heights for maximum fit and comfort
Most comfortable and safest booster seat
Easy for the kid to get in and out
Machine washable pad
checkAdjustable heights and padded armrests
Very shallow cup holders
Little wider than most seats
The Evenflo Amp is a safe booster car seat made by the Evenflo company, a manufacturer given to partnering with parents to make some of the most innovative, practical and safe products that will make the lives of both parents and children easier.
It is the best car seat for parents who intend to use it in conjunction with other large car seats as at only 6 pounds and only 16 inches wide it does not take much space. This this makes it excellent if you wish to use the booster in a small car
The evenflo amp car seat is a top rated booster seat that has been tested according to federal crash safety standards and hence you can be confident that your child is perfectly safe riding this seat.
It also comes at a great price as compared to the other car seats with similar features. It is a durable, comfortable and super cool safety seat that will have your child ride in safety and style
If you happen to move your car seats from car to car then this child car seat is just what you need. It is a small and lightweight car seat which makes it very convenient if you happen to transfer seats from car to car
For the comfort of the child the seat comes with padded armrests which would come in handy particularly on those long rides.
The safest car backless booster seats you could buy in 2018 as it scored two times above the federal safety standards for child car seats
Installation is breeze with the Evenflo as this best rated booster seat has a five point harness system which makes for easy installation as you would not need strap re-threading which has always been a pain point even for me
Similar to the Graco, this toddler booster seat comes with two elastic cup holders to fit almost any size cup
narrow safest booster seat
Passed the highest safety standards
Installation is a breeze
checkElastic cup holders and padded arm rests
The padding on the seat pad is thin
Cosco Juvenile Top Side Booster Seat
Lightweight Safe Design
The cosco booster seat is a comfortable backless booster with plush padding that your child will enjoy riding in. While it provides soft padding it will boost your child so that they can properly fit in their child safety seats
It is a slim seat that means you can install up to three of them in the backseat if you have a large family. Its unique design and lightweight nature means that you do not have to worry about the seat leaving an ugly imprint on your vehicle's backseat.
If you are on a low budget, then this is a great budget backless booster that comes at less than 50 dollars and given that its outer weight limit is 100 pounds, you can use this booster for a very long time
It is great for families on the go given that it is super lightweight and making it great if you are going on an excursion or even if you are traveling and need to use the booster seat when you reach your destination
For your convenience, the seat pad is machine washable so that you can take it out and clean it when it gets dirty and unsightly.
Slim booster seat to fit three in the back
Portable and lightweight for on the go mum
Machine washable seat pad
checkExtended use for low price
Basic car seat
Chicco GoFit Belt-Positioning Backless Booster
Safety and Comfort
For the most part many backless booster seats are made for children older than four years and this tends to produce car seats that are on the whole uncomfortable with very basic padding or any convenience for the child or the parent
This is where the Chicco Gofit shines as it is built with convenience and comfort of both the child and the parent in mind. The portable car booster seat comes with great and convenient features such as machine washable pad an, easy to carry handle, removable space holder cup holders to make for the easiest backless boosters.
Your kid gets to enjoy the perks of riding in the most comfortable backless booster seat as the Chicco Gofit comes with double foam that provides the ultimate ergo boost
No worries about spills as the seat comes with machine washable covers that you can remove and clean whenever they get dirty
The only Chicco car seats to come fitted with a carry handle so that you can easily move it from car to car if you are car pooling or are using services like uber
Integrated shoulder belt clip and lap belt guides makes it easy to use for both the parent and the child and ensures utmost safety with the snug fit
The seat comes with two cup holders that which fold away when needed to save space making this booster seat great for small cars
Easy to move from car to car
Space saving fold away cup holders
Easy install with lap and shoulder belt guides
checkDouble foam provides great comfort
Does not come with LATCH
The Clek Ozzi is the best backless booster if you are looking for something with LATCH which provides not only ease of installation but also makes for a safer installation. Made by one of the best automotive parts supplier, you can never go wrong with the Ozzi
The Clek Ozzi big kid is engineered and is the best backless booster with Latch to ensure that your child is always safe when riding in this beauty of a car seat. This is no ordinary LATCH as it is rigid and integrated into the seat making for a snug, secure and comfortable seat for the child
You may use the Clek from when the child has a height of between 40-57 inches 40-120 pounds or from a toddler that is 4 years and over. You can also purchase a range of accessories that include a cleaning kit, travel bag, and drinking cup
The Clek Ozzi backless booster is a sleek lightweight child seat that is a great fit for you if you frequently transfer seats from car to car. Moreover the sleek design is made to blend in with your vehicle's interior which can also make the child take to it more readily
Unlike many backless seats that will give your child a numb bum being all plastic, the Clek is made of materials similar to those of the seats in the cars and an extra padding layer so that the child will never suffer from numb bum
Obviously the number one reason you are going for this seat is the LATCH. The Ozzi comes with integrated Latch just like your normal convertible or high back booster so that you can enjoy ease of installation and rest easy knowing the kid is safe in the instance of a collision
Given that it comes with the longest expiration period of all the safety seats in this list at 9 years, meaning that you will have to clean it at some point. The seat has a machine washable pad so that you can remove it and toss it into the machine and have it all clean and fresh when it gets dirty
Rigid LATCH for a snug and secure installation
Lightweight seat with a sleek design
Plush padding to prevent numb bum
checkLongest expiration period of all booster seats
The LATCH is hard to release for big fingers
Best Backless Booster Car Seat: Graco Affix Turbobooster
Graco Backless Turbobooster
Out of the backless booster car seats reviewed the Graco Backless booster seat is the best car seat with its ease of use and installation, space saving, comfort, and child self buckle capabilities.
Use and Installation of a Backless Booster Car Seat
Before Installation
Ensure that you have read the car seat dos and don'ts before you install the safety seat in your car.
Ensure that you use a lap belt with your belt positioning booster.
It is OK to use a backless belt positioning booster if the car has a head restraint.
How to Install Booster Car Seat with No Back
Backless Booster Seat Age
You should never be in a rush to move a child to a booster car seat before they have attained the age, weight and height requirements of a booster. There are backless booster seat laws and regulations you need to follow to keep your child safe
You need to keep in mind that every time you move a child to a different type of car seat, the level of protection reduces. As such, you need to have the child in the given car seat stage for as long as you can to ensure that they are safe.
Your kid will be ready to use a booster seat when they weigh approximately 40 to 65 pounds which means they would have outgrown the height or weight limit of their forward facing harnesses.
Your car seat owner's manual will typically have instructions on the weight and height limits of your given car seat, and you should keep the kid in their harnessed seat for as long as the manual recommends.
Above 65 pounds, your child, while too heavy and tall for even the ​best forward facing car seat​ and is still too small and not ready for adult safety belts.
Given that most car seat safety belts are made for the average 165 pound adult, a child will typically need to use belt positioning seats until they are between 8 and 12 years old or at least 4'9″ in height to prevent any injury in the instance of a crash.
N.B: Whle it may be tempting to place the booster seat in the front seat, it is always advisable to keep the child in the backseat at least until age 12. A child old enough to ride in a backless seat seems mature enough, but trust me, it is never safe for them to ride in the front seat. let them or make them ride in the backseat until they are 12 years old to ensure their safety.
FAQs and Installation Tips
What are booster seat regulations/guidelines?
All children that have exceeded the heights and weights of their rear facing car seats need to ride in a belt positioning child seat until the vehicle seat belt fits. This will usually happen when the child is about 4 feet 9 inches tall or when they are between 8 years and 12 years old. The child should always ride in a belt positioning booster if they are younger than 13.
When do i stop using a booster seat?
Your child will typically not need to use a child booster seat once they are old enough to use the vehicle safety belts. The minimum age for this is usually about the age of 12. You will know your child is good to use the vehicle safety belts when they can strap in the vehicle seat belts and the lap belt does not lie on their belly but goes on their laps meaning they are tall enough to use the vehicle seat belt.
Where do I buy?
You can buy at many big box retailers in your city. However, the best and widest selection of booster seats will typically be found on online sellers such as Amazon or Walmart. Buying online makes it easier to compare the different types and also check out their reviews thus allowing you to make a better buying decision.
What booster seat should i buy?
The type you will require depends on the age of your child. A child from the age of four can use a forward facing booster seat with harness and back and switch to high back seat with seat belts from about age 8. From age 8 they can use backless or high back booster seats depending on fit (height and weight requirements).
Related reads: Toddler Car Seat Safety, Are cheap car seats safe?
Paulo is a passionate dad who founded Wumblers to share his parenting journey with other new parents. He graduated from Concordia University and worked as a test engineer for over a decade. Paulo loves dad jokes and craft beer.
Learn more about Paulo and Wumblers here.