I am certain you will agree with me that traveling with the child can be one cumbersome experience.
Nonetheless it does not always have to be so given the wide range of options to travel with the kid.
"I have always found the travel system stroller otherwise known as car seat stroller combo to be the most comfortable utility both for me and my little ones when journeying."
A travel system is basically a car seat base, an infant car seat, and stroller in one.
Some such as the car seat stroller frames in the mold of child car seat carriers are the best cheap strollers  that you could ever buy.
Mother with Travel System
One thing that you need to be careful when selecting your travel system or combo is to make sure that the child safety seat is certified as safe.
Most popular manufacturers will usually be JPMA certified but it is always prudent to ensure that they are by checking for the certification sticker.
Another thing to take into consideration when buying your travel system is your lifestyle.
If you are a parent that loves to move around with your infant a lightweight, easy to store and fold-able stroller system is best.
If you love the morning or evening run with your toddler an all-terrain stroller or jogger would be best.
If you tend to use the stroller in tight spaces, or hallways you had better go for the three wheeler or check out the baby trend tandem stroller one of the best double strollers​
Best Travel System Stroller: Evenflo Pivot Modular
Evenflo Pivot Modular
The Evenflo Pivot Modular is the best travel system strollers with superior protection and easy maneuverability, lightweight frame, three modes of toddler stroller, travel system and frame stroller making it comfortable easy to use and safe for your child and convenient for you.
It is important to note that you can only use the travel system stroller when your kid is at least six months old.
Comparison of the Best Car Seat Stroller Combos
Rating
Image
Product
Our Rating
Weight
Price

1

Graco Fastaction Fold

30 Pounds

2

Safety 1st Smooth Ride

32 Pounds

3

Evenflo Pivot Modular

38.5 Pounds

4​

Britax 2017

B Agile

28 Pounds

5

Baby Trend Expedition

41 Pounds
Travel System Stroller Demo and Use
Why A Car Seat Stroller Combo
You may have the best car seat for newborn but nothing beats the car seat stroller travel system given that they are often more affordable
You can also take the kid in and out of the car without needing to unbuckle them or disturb them when they are asleep.
By buying a travel system you are certain that the stroller is compatible with the car seat and base since not all preemie seat models fit in all stroller models
Considerations for Buying the Top Travel System Stroller
A great travel system is one that has has all its component parts working in perfect synchronicity.
Given the different types of stroller companies out there, it is always important that you ensure that purchase a car seat stroller comboi with components that are compatible.
In some instances you could find a car seat stroller combo that works even better than your all in one travel system though this is more often than not not the case
The following is a general checklist to keep in mind when going for that travel system or car seat stroller combo:
Bucket Seat Size: The bucket seat is one of the most important components of the travel system and hence you need to find one that provides utmost comfort for the child when you are up and about.
Fit With Your Car: A top travel system stroller will also be of reasonable size to fit in your car. Some seats will be too large particularly if you are driving a small car making them inconvenient for your commuting needs.
Safety Ratings: You cannot emphasize safety enough. The best car seat stroller combo needs to have all the necessary safety features that include sufficient padding, body support, and be side impact tested. It is always advisable to check the safety rating of the travels system and check that it is certified by the JPMA.
Portability: In addition to your infant seat size, for your convenience you need your stroller to be easy to store or transport. A great travel system for portability typically has the one hand fold or one second feature making them easy to transport and store.
Comfort: A great travel system stroller or combo needs to keep not only the child comfortable but also the mother. As such the best travel systems typically have a lot of add ons such as large storage areas, system trays and canopies. For utmost comfort for the child, go for a travel stroller system with air filled rubber tires as these offer a smooth ride on any terrain
Maneuverability: When you are considering a travel system stroller it will be important that you take into account the terrain you will be using the stroller on. A 4 wheeler will generally be great for even the roughest of terrain while your three wheel will serve you best on paved jogging trails
Style: Maneuverability, comfort, safety and convenience are important. But you do not want to be seen around the neighborhood with a downright ugly travel system. A good travel system has great colors and great design that will enhance your style and portray you as the fashionable parent you are
Here is the Latest List of Best Travel System Strollers Rated by Parents' Experiences and Reviews:
Evenflo Pivot Modular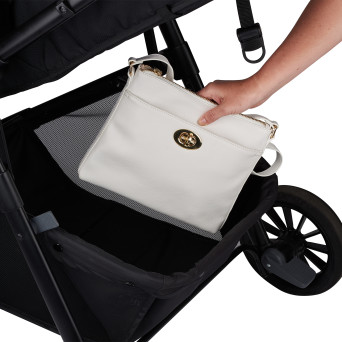 Extra Large Storage Basket
The Evenflo pivot modular travel system is the first of the kind of travel systems also known as convertible strollers made by Evenflo a company that prides itself on a tradition of crafting comfortable safe and innovative products
The The Evenflo Pivot modular is an elegant and  lightweight travel system stroller that combines the safemax infant car seat with a lightweight dual mode stroller and will take infant from as low as 5 pounds up to 45 pounds
Provides an easy and comfortable ride with cruiser tires, large storage box, 5 point harness and an ergonomic handle and as the name modular suggests, this stroller can be used in several different modes that you can use it for up to 6 modes
Have children of different ages that you go out with no problem, You can use the buggy as a toddler stroller, travel system, frame stroller, and reversible carriage. This is a very useful feature as the grow and go buggy can be converted into different uses as the child grows
It is the safest travel system you could buy having been rollover tested and coming with easy installation guides makes the safest installations you could have. It comes with an anti rebound bar and is made of premium materials designed to ensure the kid is safe.
Enjoy effortless and smooth handling from the Evenflo Pivot Modular stroller travel system which comes with cruiser tires that provide a smooth ride for the kid particularly for cobbled streets and pavements
If you intend to be out of the house for a while the seat has you covered with a large storage basket that can fit in all the baby essentials, and a removable child dray for the child's nourishment needs
It is excellent for travel given that it is very compact and comes with an easy slim profile fold so that you can throw it into the trunk of almost any small or medium sized vehicle. For the kid it comes with a three panel canopy that to protect the kid from the sun
Several modes of riding for the kid
Made of premium materials and safety tested
Smooth and effortless handling
checkCompact and excellent for travel
You have to purchase adjustable shoulder pads
Comfort and easy maneuverability
The Graco Fastaction is an easy to operate travel system that makes it easy to go out with your little one having been made by Graco, a company that asserts that its mission is to enhance and assist the parenting experience by taking care of the small things to give you peace of mind
The Graco Fast Action Fold Click Connect travel system is an ultra lightweight stroller car seat combo coming in at only 22 pounds though it protects your baby from 4-30 pound while at the same time making it very easy to maneuver on your evening or morning jog or stroll
With its one hand fold and sturdy frame it offers comfort and convenience not only for the mother but also the child since you can always fold it away easily to put it in the trunk of your car when you intend to use it far away from your home
The travel system stroller provides ultimate safety and comfort with its 3 and 5 point harness and premium fabrics and well designed seats and wheels unlike those found in some strollers in its class.
The Graco Fastaction fold click connect stroller system is made for you if you love the active lifestyle. At 30 lbs it is lightweight and portable yet combines the features and convenience of a standard stroller with the maneuverability and performance of the best all terrain strollers
Since you will be out and about you want to know that the child is secure in their travel system. This is accomplished through the proprietary click connect whose audio sound will always inform you when the installation is snug and secure
For your child the stroller provides a smooth comfortable ride as it has large tires that act as shock absorbers on practically any terrain. In addition to this, the front wheel offers a choice between the swivel and lock, which come in handy if you need to either stroll or jog.
The huge canopy is excellent for protecting your child from the sun eve as you get to enjoy your stroll or jog while having access to all you need such as the diaper bag, snacks and other baby gear that you can toss into the extra large storage basket for when you need them.
One hand easy fold for the mom on the go
Lightweight, portable and maneuverable
Easy and safe installation with click connect
checkConvenient for you comfortable for the kid
Phone storage compartment is too tiny
Quite a pricey buggy
Made by Chicco, a company that asserts that they love babies and work to make products to help them happy comfortable and safe, the Chicco Bravo Trio Travel system is the ultimate stroller not only for the child but also for the parent
KeyFit Carrier – As a carrier the Chicco is cool to use with your newborn baby up to when they outgrow it. It is very easy to use with the Keyfit infant car seat as it is easy to remove the stroller seat and attach the infant seat and its adapter in no time at allTravel System – As a travel system it is just as easy to use for when the child can now sit up fuly in their seat. You can easily get the child in and out of the Bravo which easily clicks in and out of the stroller with the easy to use adapterToddler Stroller – When the child can no longer fit in the Keyfit infant car seat, the Bravo functions just as well as a toddler stroller that you can use for your strolling and jogging needs until the kid is up to 50 pounds
For your convenience and that of the child the Chicco Bravo Trio comes with  an extra large storage basket for your purse and can even fit the diaper bag and baby essentials if you intend to be out of the house for a while
The Chicco provides you with the most convenient and easy of folds of all strollers on this list. It comes with a one hand fold and even better a self standing fold so that you can have it ready to put into the trunk with no further complications
For the mom who loves to stroll or jog rough terrain, the travel system stroller provides easy maneuverability through height adjustable handles and auto swivel wheels for all those gravelly roads or grassy park you may want to go to
The baby will enjoy a safe and comfortable ride in this buggy which combines an extra large canopy to protect them from the elements and multiple position reclines so that you can adjust their sitting positions as the child grows
You can use it for up to three modes
Easy one hand fold
Extra large storage for baby essentials
checkAuto swivel wheels and adjustable handles
The cup holders are too wide and shallow
Britax 2017 B Agile & B Safe 35
Britax. Be Confident. Be Free is the motto of Britax the makers of the Britax Agile and Britax B Safe range of travel system strollers. Driven by a passion for innovation and safety to ensure that parent and child are free to make the most of their adventures together, nothing embodies Britax.
The Britax 2017 B Agile and B Safe combines one of the child safety seats and best stroller makes for some of the safest of travel systems that comes with outstanding maneuverability and superior protection.
The travel system stroller comes with user guides, infant seat base, B-Safe 35 Elite Infant Seat, and B-Agile 3 Stroller. While it is the best lightweight stroller system, it comes with all the conveniences and safety features you would expect of any premier stroller in its class.
The perfect combination of the Britax B safe infant car seat and the Britax Agile Travel system makes for a light and portable system that you will enjoy with your on the go lifestyle
Your kid gets to enjoy the benefits of the robust and innovative safecell impact protection system that incorporate a deep shell, steel frame and base so that you can rest easy knowing the child is always safe in the stroller or in the car
Don't be that awkward mother who gets stuck on corners and doorways as the Britax comes with swivel front wheels that makes navigating right corners and tight spots a breeze
Never have to be frustrated trying to install the car seat into the stroller as this stroller is compatible with any Britax infant car seat through the Click and Go system whose safety is enhance with the center LATCH installation of the infant seat
One hand fold design and the lightweight nature of the stroller makes this the best stroller for travel
Innovative safety protection
Great car seat stroller for travel
Easy maneuverability and navigation
checkEasy installation with LATCH
Unfolding with one hand is not as easy
For more than thirty years Baby Trend has distinguished itself as one of the most innovative companies that manufacture children's products designed to meet the needs of modern parents at an affordable price
The Baby Trend Expedition Jogger is a smart travel system stroller that combines great convenience features of the standard stroller and the maneuverability of a jogger or all terrain stroller for the ultimate comfort of you and your child.
The best baby travel system 2018 is a feature rich car seat stroller combo with a peekaboo window, deep cup holders, padded harness cover ad multiple position reclining seat for making it the best choice for parents on a budget but who want to have all the basics of a travel system.
Just like your ordinary stroller the Baby Trend comes with all the safety features that include plush padding, five point harnesses, energy absorbent foam, and multi position reclines in addition to a range of convenience features for you
With huge 16 and 12 inch tires, your baby will be well protected from the shock of the bumps on bad terrain. In addition to this the Baby Trend is easily maneuverable given that it is a three wheel buggy which makes it very navigable
For the child the push chair comes with a peekaboo window in its large canopy, two deep cup holders for when they need their water or drinks. And for you adjustable handles just in case the default is too high or too low for you
Combination of jogging and standard buggy
Convenience for mother and child
Easily maneuverable in rough terrain
checkGreat safety and comfort standards
Takes a while to understand the instruction
A little bulky and heavy
Nuna Tavo Travel System
Nuna's TAVO stroller walks with your child from delivery till 50 pounds. The Nuna Tavo seats can be hooked up to your car seat with an easy click. Therefore it's simple to build your traveling system. The material used in developing this Nuna Tavo is of high quality; more so, the stroller comes with top-notch leatherette handgrip bar.
Furthermore, it is the all-season car seat: it possesses a fine mesh back along with a washable seat mat for the cold condition which you could get rid of whenever it becomes warm. With the help of well-built suspension this stroller can ride over the diverse landscape.
The Nanu Tavo has friendly functions like one-handed flip as well as unfolds, plus incredible canopies.
It also has a trolley feature, to help towing it just like rolling baggage. You can detach tires for safe-keeping. The large UPF50+ detachable canopy carries a lot of coverage alternatives.
You can zip-away visor to complete cover, even with a full recline. There's a beautiful mesh window at the top with a magnetic closure to help you look at your child. There is an additional excellent mesh at the flipside which you could open for circulation of air.
The roomy seat possesses four recline placements, such as virtually flat. In the entirely reclined function, the changeable footrest folds up as well as a click at the base to generate a bassinet-like enclosure for little infants. The detachable baby insert offers additional assistance for smaller bikers. A swing-away bumper shaft (as well integrated) fits infants of every sizing, together with detaches with the child is old sufficient to ascend in alone.
TAVO's storage carrier can be huge. Also, it has spring-loaded borders, and you might have to push these down a bit to have your items in, they'll stick back. The carrier has a compact, zippered pocket for the car keys or even phone, fantastic for stashing away assets.
It is glossy as well as portable. The multimode baby stroller provides convenience for the infant as well as comfort to suit your needs with the soft riding, easy-fold as well as sufficient storage rack.
It's a stylish stroller with the smooth model, swiveling front wheels as well as gradual suspensions to undertake bumps as well as controls. It has a height-adjustable power functions. It has a core key that enable quick flip with a single hand. It has one-touch foot braking pedal provides additional control whenever on an outing, whereas a large storeroom carrier with zipper pocket that you plus baby require when on the ride.
Whenever infant is taking a nap, recline the car seat, and more so, prolong the cover that will let you peek in via the fine mesh window with quiet magnetic flap closure. Besides, you will not need to wake your child whenever moving to as well as from the automobile.
Spacious seat
True one-hand fold and unfold
Huge canopy
checkLeatherette push bar
Large storage basket
Connects with Nuna PIPA car seat
it is quite bulk even after folded
requires some skills to assemble
Chicco Viaro
The Chicco Viaro Quick-Fold Baby stroller is three-wheel model, light in weight metal body, as well as one-hand fast flip. More so it comes with a pull-strap, as well as key. It is easy to put under the seat, and more so, simple to fold for a portable with free-standing flip. The stroller is less difficult to unfold after shutting.
The Chicco Viaro Stroller is a traveling system with a simple click-in accessory for the KeyFit 30 Baby Vehicle Seat. The Viaro Baby stroller consists of a removable plate with a couple of mug holders, flexible top cover, as well as multi-position backrest.
A swiveling fore tires with a suspension, maintain ride from the surface to surface. It has foot back brakes which help in holding the stroller in position whenever parked. For parents, the Viaro Baby stroller functions a cushioned push-handle, guardian plate with a pair of mug holders, along with a large carrier which is readily available from the fore or even flipside.
The Viaro Travel System consists of the #1-rated Chicco KeyFit 30 Baby Auto Seat, which can hold babies from four to thirty pounds plus as much as 30″. The KeyFit 30 is the simplest baby auto seat you can set up safely whenever.
The Viaro consists of a flexible, detachable top cover, unbiased foot locking brakes. It has sizable carrier which is reachable from the front part. More so, flipside offers lots of storage for any stuff of your infant. Front tires suspensions offer the perfect trip, as well as each infant as well as a parent have a rack with cup stands.
Whenever you look at almost all the products you buy for your infant, it's quite an exhaustive listing. However, with Chicco Viaro Stroller you will not only have a product that is unique; it is an item which could multi-task, save you time, funds as well as disappointment. For family members on a trip, a traveling system may save you from a few inconvenience of purchasing other products. It eradicates the possibility that your vehicle seat will not be appropriate for the baby stroller.
Whereas infants can't go on a trip in the baby stroller only until they sit up, a traveling system provides you with all the flexibility advantages of a baby stroller, because the vehicle seat suits appropriate into it. With just a couple hits, you could untuck the baby stroller, pop out the auto seat, pop it onto the baby stroller, as well as of you decide to go for a pleasant day at the zoo or even shopping mall or even an enjoyable, lengthy holiday. Besides, you reduce the possibility of awakening the infant throughout each one transfer.
Glossy Italian model
Secure baby auto seat
5-point harness
checkTrouble-free set up
Light in weight
Agile as well as simple to maneuver
Small tires & absolutely no suspensions
No peek-a-boo screen
Britax B Free
The Britax B-Free is a three-wheeled full-size baby stroller with latex wheels. This baby stroller is simpler to push as well as makes the Britax B-Agile due to the one fore tires along with the shorter outline which makes it outstanding at negotiating modest spots.
This baby stroller is straightforward to flip, compact for simpler transportation, as well as sports a huge top cover with sufficient storeroom. This Britax is a lighter in weight and Agile. It is a good quality as well as self-stands. Should you never mind the minimal storage but you still feel you have to remain simple; Britax B-Free may be the best option. The B-Free could be everyone choice.
You may have the chance to pack up in the baby stroller all you could require since it has a huge carrier as well as seven storage slots!
Britax B-Free has an exceptional canopy to assist you to stay clear off sunburns! You can rest assured that on hot days, your kid is shielded from devastating sunlight from head to toe. More so, with an excellent mesh window in the top cover; your infant is saved from overheating.
This baby stroller bears fairly huge rubberized wheels that may manage broken footways, cobblestone, gravel as well as grass in the local park. With Britax B-Free your trip is silky, so you don't need to worry about getting a flat wheel. Might you be shorter/taller be grateful to your partner? Don't be troubled! This baby stroller is comfy to push for anyone due to the changeable handlebar.
The child stroller has adapters for the baby auto seat. Therefore you don't need to pay additional for it. The seat bears multi-position recline that is ideal for infants who prefer to sleep on the road.
Due to textured, breathable seat with smooth cushioning, your infant may journey in maximum convenience. The excellent ability of 65 pounds will let you make use of the B-Free for an extended time of time as well as will make it a baby stroller for an older/bigger child.
Folding is one-hand as well as simple to go along with the whole baby stroller is reasonably light – simple to lift to place in the auto or even carry. It's a perfect option for grandparents' baby stroller. You might have the versatility to purchase merely the baby stroller with auto seat adapters (or add the baby auto seat afterward) or even buy the entire traveling system right away. B-Safe 35 Baby Auto Seat is among the ideal as well as most secure in the U.S.
Stroll Easily
With an adjustable handlebar & standing seat for the intrigued infant
Quick-zip expandable top cover allows infant sleep on-the-go.
No bumper bar. I desire there was a bumper bar; however, you could get a quick snack rack instead.
Brakes not flip-flop-friendly. I believe this may be a simple upgrade.
Evenflo sibby travel system
The Evenflo Sibby Travel System is the ideal baby stroller for an ample family. The Sibby provides a Ride-Along. It is liner that allows two kids to go on trip simultaneously. The Ride-Along is attached during installation as well as folds away whenever not being used. The new worth is a trouble-free alternative from having a dual baby stroller for a couple of kids. The lift-to-fold model folds compactly as well as fits conveniently in every size SUV from significant to modest. The new Cruiser Wheels have an attractive appearance along with the mismatched back tires offer an even trip.
The Sibby Travel System has LiteMax Baby Auto Seat, for infants between 4-35lbs. This seat is rollover as well as side effect certified to offer protection wherever your kid requires it most. The bottom part consists of an in-built strap lock-off device that provides comfort at the base is safe as well as correctly set up. The seat is light in weight as well as consists of start-up harness adjusting along with a plush baby head assist. The ergonomic handle is safer to carry along with the stress-free transfer from the stay-in-car bottom enables a fast as well as secure connection.
Other features consist of : Big storage with fore as well as back access, big coverage top cover to protect from the variables, multi-position recline for convenience, detachable hand bar for effortless in as well as out, Sport Model handle grabs are comfy as well as simple to maneuver , Flex-Hold guardian cup carries cups securely.
The seat that reclines entirely as well as transforms to bassinet function
The light baby auto seat that passed protection evaluation above specifications
Comfortable as well as fast switching between usual seat as well as baby auto seat
The Eveno Sibby Travel System is the ideal baby stroller for a progressing household and also riding alternatives for the kid! The Sibby consists of a Ride-Along board, that enables a couple of kids to trip simultaneously. The detachable board conveniently links during installation as well as folds away whenever not used. As your kid gets bigger, you could provide them with the solution to sit, trip or even stroll by adjusting it. You'll pat yourself on the back for not having to purchase another baby stroller later on!
The lift-to-fold model is straightforward along with the small size in modest cars, despite the joined board! For a long time, prolonged sport-style handles are simple to guide as well as provide your rider a lot more space. Sleek cruiser wheels give an even ride a must-have with the pounds of a couple of riders, along with the prolonged, 3-panel top cover has a peek-a-boo window. The large storage carrier along with a beautiful mesh pocket on the seat rear offer extra room for basics of most sizes.
Rollover analyzed as well as side impact analyzed, this baby seat is a top-notch security pick. The in-built strap lock-off system, multi-position bottom as well as recline signal provide comfort that the base is safely as well as appropriately set up. Light in weight, with an ergonomically-designed lever, this chair could be correctly carried in the twist of the hand. Additional must-haves consist of a full-coverage top cover, up-front control adjust along with a plush baby head pillow.
Reversible seat
Large carrier under the seat
Wheels ideal for town use
Assembling is hassle-free
No bumper bar. I desire there was a bumper bar; however, you could get a quick snack rack instead.
Brakes not flip-flop-friendly. I believe this may be a simple upgrade.
Chicco Cortina CX travel system
The Cortina CX has a changeable backrest with eight recline placements for the comfy journeys from infant via the child. The flu posture, as well as pop-up footrest, develops a comfy bassinet for babies with the enclosure on almost all four edges. The cool Memory Recline feature keeps the backrest posture throughout folding/unfolding, cutting out the must readjust between tours. Front-wheel headgear and also non-obligatory toe-tap swivels allow it to be simple to sustain an even trip from the surface to surface. A modifiable top cover with peek-a-boo window provides shade from the sunshine.
The Cortina CX folds compactly with a single hand as well as stands by itself whenever folded. The kid rack has a couple of cup stands, a detachable, dishwasher-safe liner, as well as opens from both sides or even detaches entirely for simpler in/out. The guardian holder consists of a cup tray as well as a covered storeroom for minor products, along with the basket offers room for more prominent products. An ergonomic, cushioned push-handle bears three height modifications to perfectly suit Parent. Toe-tap brakes maintain the baby stroller in position whenever parked.
For usage as a traveling system, the Cortina CX Baby stroller includes almost all KeyFit baby auto seats with the simple click-in connection.
Swivel tires with fore tires headgear
Independent toe-tap brakes
Eight various reclining postures, like completely reclined
Memory Recline feature
Compatible with KeyFit baby auto seats
Travel system created for infants 4 pounds . to 50 pounds. ( Please read stroller and car seat weight specifications individually)
Good top-notch, sturdy, durable together with long-lasting
5-point utilize the system in the baby stroller as well as auto seat
Includes auto seat as well as base
When you intend to purchase a traveling system, the Chicco Cortina travel system is most likely the ideal offered today. The Cortina baby stroller is lighter in weight compared to nearly all others in such a classification as well as Chicco has been able to deal with the most irritating problems with other traveling system strollers, like carrier access whenever you recline the chair, capacity whenever folded, toughness as well as maneuverability. Whereas the Cortina baby stroller will not cope with like a $500 baby stroller, it'll undoubtedly combat tours to the shopping mall or even local park with pertinent relieve, as well as with a more low-cost tag.
Should you need a baby stroller which could handle harsh landscape regularly, the Cortina possibly is not best for you. Town dwellers who have to have their baby stroller down and up many stairways or even must get around restricted areas might want to check out super-lightweight strollers in a more significant budget to benefit from much better maneuverability. For people who such as the Chicco baby stroller design but additionally need to be able to utilize their vehicle seat with a light in weight baby stroller frame, check out the multi-mode Chicco Bravo Trio traveling system.
Easy to wash
Stands whenever folded
Sufficient space in storage carrier
Canopy offers adequate shade
Stroller uses up plenty of space whenever folded
The stroller is cumbersome
Whenever reclined, it challenging to access the carrier
Best Travel System Stroller: Evenflo Pivot Modular
Evenflo Pivot Modular Travel System
The Evenflo Pivot Modular is the best travel system stroller with superior protection and easy maneuverability, lightweight frame, three modes of toddler stroller, car seat stroller combo and frame stroller making it comfortable easy to use and safe for your child and convenient for you.
Related Links
Best Rear Facing Car Seat for Small Car
Paulo is a passionate dad who founded Wumblers to share his parenting journey with other new parents. He graduated from Concordia University and worked as a test engineer for over a decade. Paulo loves dad jokes and craft beer.
Learn more about Paulo and Wumblers here.