I compared Chicco Keyfit 30 to Nuna Pipa in a range of quality categories, and the final score is 4 to 2.5 points.
For you, this means two things:
There is a clear overall winner
The winner is not going to be the better seat for everybody
To pinpoint what's right for you, pour yourself a cup of coffee and read this comparison top-to-bottom. It's jam-packed with information that goes well beyond the two seats.
Let's get right to it.
Specs of the Chicco Keyfit 30
| | |
| --- | --- |
| Chicco KeyFit 30 | Specs |
| seat size | 27.5″ x 16.5″ x 24″ |
| base size | 8 x 15.5 x 20 |
| weight (carrier only) | 9.5 (16.5 with the base) |
| weight capacity (lbs) | 4-30 |
| maximum recommended height (inches) | 30 |
| expiration | 6 years after manufacturing |
Defining features of the infant car seat
Spring-assisted leveling with bubble indicators on both sides
Super-cinch strap for the LATCH system – super simple tightening
Rigid LATCH connectors – a game-changer for cars with a deep LATCH system
One-pull tightener for the safety harness (threaded, 5-point)
Removable and machine-washable seat cover
Compatible with Chicco strollers (travel-system ready) – swift transitions for parents on the go
One-hand release from the base
Main fortes of the Chicco Keyfit 30
The base install is as easy as it gets
The car seat base is spring-assisted and easily adjustable.
You just disengage the orange lever and tweak the position until the bubble indicators on the side are level.
The seat belt install is decent, but nothing to write home about.
The LATCH install is where the Chicco Keyfit 30 truly shines, with the super-cinch as the game-changer.
Instead of tightening the straps and making sure they're not twisted, you just click the LATCH connectors in and pull on the super-cinch tab.
Finally, it's worth mentioning that many of these innovations that are industry standards today initially came from Chicco. Make of that what you will.
Value-vise, it's one of the top infant car seats
Chicco is great at filling out the market's pulse and finding the pricing sweet spots. They proved the time and again over the years. In that aspect, they hit the nail on the head with the Chicco Keyfit 30 infant car seat.
They made a deliberate choice to save on the production cost of a no-retread harness and target the parents for whom threading is not a deal-breaker.
It turns out there are many that fit the description.
Easy pairing with Chicco strollers
The attention to detail is apparent here.
You detach the Keyfit 30 from the base simply by pressing one button, and it clicks right onto a (wide range) of compatible Chicco strollers.
That's why you might see it described as part of a "travel system." There are lighter carriers, but few are as convenient as the Chicco Keyfit.
Below is a list of a few popular Chicco strollers compatible with the Keyfit 30:
Cortina
Cortina Magic
Keyfit Caddy
Viaro
Mini Bravo Plus
Urban
Neuvo
Liteway Plus
You might also be interested in: Chicco Keyfit 30 vs Fit2, uppababy mesa vs chicco keyfit 30
Specs of Nuna Pipa
| | |
| --- | --- |
| Nuna Pipa | Specs |
| seat size | L 26.5 W 17 H 22.6 in |
| weight of the carrier | 9.78 |
| combined weight (seat and base) | 21.9 |
| weight limits | 4-32 lbs |
| height limit | 32 inches |
| expiration | 7 years from manufacturing |
Critical features of Nuna car seats
Adjustable stability leg (12 positions) – with a color-coded indicator that turns green when the load leg is secured
Can be used as a part of a travel system – compatible with the range of Nuna strollers (more on that in a minute)
Rigid LATCH attachments – lock straight onto the vehicle bar
Bubble level indicator – the bubble should be touching the line
One-hand release from the base – you press the release button, and the carrier pops right off
Rugged-yet-light shell – high-density polypropylene
Strongest sides of the Nuna car seat
This is not a full-on review of the Pipa; it's an analysis crafted to stress the features that stand out – especially in the context of comparing it to the Keyfit 30.
Stability leg absorbs impact and minimizes rotation in a crash
The primary purpose of the stability leg is to minimize the rotation in a crash.
It also absorbs some of the impact forces by putting a "crumple zone" between the G forces and your baby.
Still, you'll rarely see one in modern car seats.
Does it make a difference?
Well, that's not a simple yes or no question because it's only one of the safety features. We'll get to the specifics in the safety comparison section.
One of the few infant car seats with a European belt path
One of the few industry trends that leave me confused is the decreasing popularity of the European belt path.
Why?
Because it's the safer, superior alternative to the American seal belt path.
Now, that might sound tickle your patriotic nerve but hear me out…there's zero room to romanticize baby gear.
It's simple, really – the American belt path only goes over the stroller while the European wraps around the back of the infant seat.
Slower but safer installation without the base
I understand that we all live fast-paced lives, and the European belt path takes longer to secure, but that's not my point. I'm not trying to convince anyone to use it.
I am trying to convince the makers of infant car seats to offer it as an option – it's just about adding an extra buckle.
No need for a car seat adapter if you own a Nuna stroller
This might sound like a commonplace statement, but it's worth mentioning since Nuna makes some of the most popular strollers out there.
To be specific, below is a list of strollers compatible with Nuna Pipa car seats:
Compatible Nuna strollers (come with adapters included):
TRIV
MIXX
MIXX Next
TRVL
TAVO, and TAVO Next
PEPP and PEPP Next
Compatible strollers from other brands include industry classics like UPPAbaby Vista and Cruz. To use the Nuna Pipa with the UPPAbaby strollers, you'll need a post or a ring adapter.
Check out other comparisons: uppababy mesa vs nuna pipa , safety 1st grow and go vs graco 4ever
Chicco Keyfit 30 and Nuna Pipa car seats compared side-by-side
Best Value
Comfortable and secure
Simple installation
Five-point safety harness
Easy to fasten and unfasten
Washable fabric
Premium Choice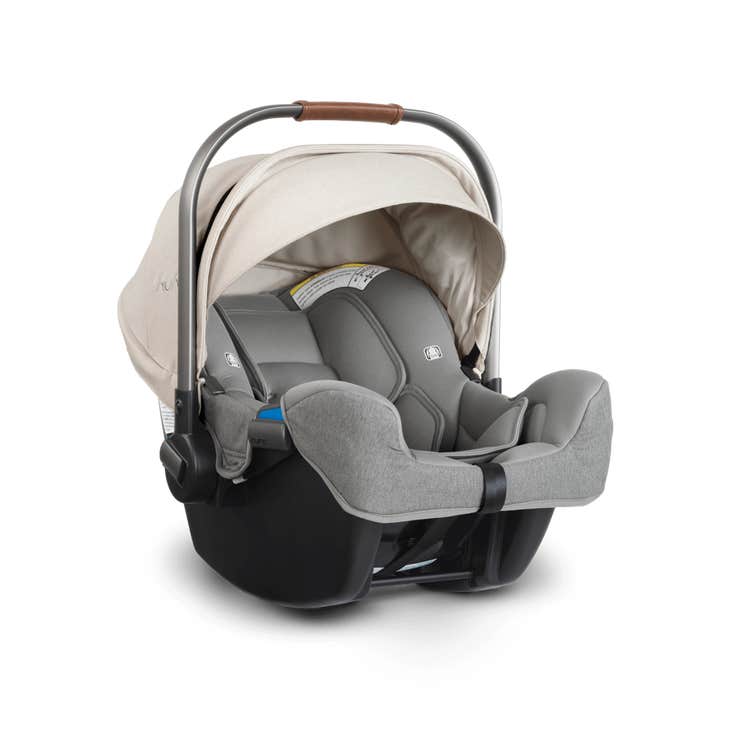 Unique rigid LATCH
Additional (relaxed) base
Bubble level indicator
Adjustable handle position
Extendable canopy
---
Safety of the Pipa and Keyfit 30
This is the only category with the gravity of two points, so I'll take my time.
EPS vs. Aeroflex™ foam
The Keyfit 30 car seat uses energy-absorbing EPS foam, which is pretty much the industry standard for impact protection.
Nuna Pipa uses a trademarked specialty foam they call Aeroflex.
Now, I'm not a fan of fancy terminology that doesn't tell you much about the material, and that certainly applies to the Aeroflex.
But I'm reasonably confident of this – it's as good or better than EPS (Expanded polystyrene), which is slowly but surely becoming outdated in the face of innovation like EPP (Expanded Polypropylene).
Leg versus no leg – a promise with a caveat
I promised I'd get back to the stability leg and here we are (also called a load leg or foot prop).
Nowadays, you hardly ever see them in US-made infant car seats, but they're common in Europe. Today, the opposite is the case; it's the San Franciscans from Nuna that bring the load leg to the table.
What I think
In the odd case you're interested, I believe a load leg should become the industry standard within 5 years because the data supporting the case data is absolutely there.
Load legs lower the forces that reach your baby's body in a few ways:
They minimize downward rotation and lower the forces that get to the baby's neck as they move upwards in the seat (crucial in a frontal crash)
They absorb some of the impact and direct the remaining forces to the strongest part of the baby's body – their back (and away from the fragile neck and shoulders)
They're an anti-rebound device (much like a bar) and lower the risk of the baby hitting its head against the back seat
A caveat about load legs
What I said above doesn't mean that an infant car seat with a stability leg is safer by default. There's still obviously a lot of work to be done.
The safety ratings below are a case in point.
Safety ratings compared
When all is said and done, all the safety features work together, and the road meets the rubber in tests and, consequently, car seat safety ratings.
In this particular case, Chicco bests Nuna Pipa in crash testing results I've seen…and it doesn't stop there; it blows past Pipa and wreaks havoc on the industry at large, including some seats that cost twice as much.
(How do you like them apples?)
Here's an interesting tidbit – most seats that come close to the safety results of the Keyfit 30 also come from Chicco, like the larger Keyfit 35 and the lighter Keyfit 2.
Score: Chicco Keyfit 30 vs. Nuna Pipa – 2 : 0
Ease of installation
Both infant seats belong to the upper tier of the market regarding the LATCH installation, and they're both average in seat belt installation.
Verdict – the installation category is a tie – half a point for both the Nuna Pipa and Keyfit 30.
Score: Chicco Keyfit 30 vs. Nuna Pipa – 2.5 : 0.5
Ease of use (with and without the base)
Most of the work here has been done for us by the good people of the NHTSA. They awarded 4 stars for ease of use to both car seat manufacturers for these two models.
Using the seats without the base
I'd say that the seat belt path counts towards convenience, and a European belt path is the way to go if you're going in and out of Ubers.
It might take two seconds longer, but it doesn't detract any time from your day – you're already in the car.
It's a close margin, and I have the urge to give it to Chicco, but the category has the words "ease of use" in it…and Chicco certainly isn't easier to use without the base. Plus, the harness is threaded.
So, a tie is fair.
Score: Chicco Keyfit 30 vs. Nuna Pipa – 3 : 1
Pipa is the comfier car seat
It's a landslide victory for the Nuna Pipa in the comfort category.
The padding is richer and plusher, not only compared to the Keyfit 30 but compared to some of the top seats out there.
Score: Keyfit 30 vs. Pipa – 3:2
Capacity – moving from Pipa and Keyfit 30 to a convertible car seat
The Nuna Pipa has a slightly higher upper weight and height limit, but the difference of two pounds and two inches doesn't merit a whole point.
I'm awarding half a point to Pipa.
Score: Chicco Keyfit 30 : Nuna Pipa – 3 : 2.5
Value for money – point Chicco
I already praised the Italians for finding the sweet spots of pricing.
Let me put it like this – if you had no idea about the cost of the two seats, which would you say is the more expensive based on the analysis above.
Personally, I'd choose Chicco every time.
And I'd be wrong every time.
That's why the Keyfit 30 is the better bounce for the ounce.
Score: Chicco Keyfit 30 : Nuna Pipa – 4 : 2.5
Ties in all other categories
All the other quality categories that make a substantial difference resulted in a tie, including stroller compatibility, maintenance, resale value, and longevity.
Related reads: best car seats for preemies , infant car seats vs convertible car seats
Chicco Keyfit 30 or Nuna Pipa – final score and key takeaways
If you're not particular about brands but a value-oriented buyer, I think that the "Chicco Keyfit 30 or Nuna Pipa" dilemma is not a dilemma at all – go with Chicco.
On the other hand, if comfort and a premium feel are paramount, the elegant Nuna Pipa is a conversation starter.
Paulo is a passionate dad who founded Wumblers to share his parenting journey with other new parents. He graduated from Concordia University and worked as a test engineer for over a decade. Paulo loves dad jokes and craft beer.
Learn more about Paulo and Wumblers here.