Have you ever wondered if you need to use a child restraint system (CRS) or a car seat on an airplane? Well you are not alone.
If you're taking it on an airplane, it will need to be FAA approved, of course!
While there are so many guides offering tips on child safety seat installation and use for your vehicle, there are so few such recommendations for best child safety seats for travel or for FAA approved car seats.
Funnily enough, even the FAA website will not provide an FAA approved car seats list!
Since you do not want to arrive at the airport and be told your seat is not approved fro airplane use, I have prepared this essential guide for FAA car seats for travel.
Check out our quick FAA Approved Car Seats List:
"While child safety seats are not required while traveling in an aircraft in the US or Canada, nor are there airline approved car seats, the Federal Aviation Authority recommends that you secure your child on the aircraft using a proper seat."
Many parents with kids under two years will just have the kid on their lap for the entire flight, though flying with an FAA child seat is always the safest way to travel.
Bear in mind that you'll have to buy a seat for your infant in this case, whereas if you're traveling with them in your lap, you can just get a lap infant fare.
Best FAA Approved Car Seat: Safety 1st Guide
Out of the best FAA Approved car seats on the list the Safety 1st Guide 65 is the best portable safety seat for travel with its small size, adjustable headrest, side impact protection and 5 point harness.
But here's the thing:
If you have a child older than two years, and you are on a long haul flight you will have either of two problems or both:
Such a child is very active and will not be content to sit on your lap the entire time. I can tell you from experience, they can get bored very easily and want to walk all over the plane playing with other passengers
A toddler without a child car seat will be a nuisance on the flight since even if they are on your lap they will never let you enjoy your airplane movie or a meal, at least with a seat your hands will be free.
While there are many child safety seats on the market, some that claim to be the best seats for airplanes, you can only use an FAA approved car seat on an airplane.
FAA Certified Car Seat:
Your car seat is FAA approved if it has the sticker on it declaring "this restraint is certified for use in motor vehicles and aircraft"
FAA Approved Car Seats: A Comparison Chart
Rating
Image
Brand
Our Rating
Weight
Price

1

Evenflo Tribute LX Convertible Car Seat

9.1 Pounds

2

Britax Marathon G4.1 Convertible Car Seat

19.4 Pounds

3

Safety 1st

Guide 65 Convertible Car Seat

14 Pounds

4

Cosco Scenera NEXT Convertible Car Seat

11.4 Pounds

5

Graco 4Ever

 4-in-1 Convertible Car Seat

27.9 Pounds
How to Install an FAA Approved Child Safety Seat
FAA Recommendation and Regulations for Child Car Seats
Ensure that your child restraint device (CRS) is FAA approved for use in an airplane.
The best car seat for flying are no wider than the FAA recommended 16 inches.
You are permitted use the child seat for a kid of any size or age as long as they within the weight and age limits set out in the car seat manufacturer's manual.
You may use a child safety seat as long as you ensure that you use it in the five point harness mode and that the seat has been approved for use in airplanes and in motor vehicles.
You have the right to install the airplane child seat on a seat in any of the classes of the airplane if you bought the ticket as long as the child safety seat does not interfere with safety procedures or with the movement of passengers during an emergency. Note that the best plane seats for installing the safety seat are the ones on the windows.
Call ahead arrange for a discounted price from the airline if you will be using an FAA car seat. You can only use the car seat if you purchase a ticket for your baby.
When calling the airline, ensure that you not only book adjoining seats but also a window seat so that the safety seat will not block the exit or be a source of discomfort to other passengers.
If you do not want to purchase a ticket, ask the airline if they would be fine if you used an empty seat for your CRS (practically the best car seat for airplane travel). nonetheless, if you plan to travel on busy days or seasons it is highly unlikely you will find an empty seat.
If you will be making connecting flights, ask the airline to assist you with protocols for lugging a child car seat and luggage through the airport.
5 Infant Airplane/FAA Approved Car Seats 2018 Reviewed
Have you ever been in an airport with a million bags and trolleys, and a toddler on one hand and yet also have to tote along a huge car seat? sounds familiar doesn't it?
If you are someone like me who travels often this can be quite a frustrating experience all round that we often wish we could just not have to travel, but travel we must. 
When it comes to child safety seats, most are designed for cars which makes them totally unsuited for us travelers who have to go through check in at airports sometimes several times a month. 
Would it not be nice if you could have something small and portable that you could get in and out of your car and dash across the airport with without too much hassle. 
This is what the Safety 1st Guide 65 is built for. The Safety 1st is the best FAA Approved car seat if you are looking for a small and portable car seat for travel.
In addition to being small and portable car seat for travel, you also get the following benefits with the Safety 1st guide:
Enjoy a lightweight child safety seat that you can carry around the airport and when you are not traveling can transfer easily from vehicle to vehicle if that is your thing
If you travel a lot you do not have to worry about the child seat getting messy as the Safety 1st Guide comes with a machine washable pad. It also has a cup holder to prevent messes from spilling fluids or food
The Safety 1st Guide 65 is the best travel car seat for small cars as its small footprint means you can install up to three seats in the back seat of your car without inconveniencing other passengers, if you have a large family.
Provide the kid with safety and comfort with the adjustable headrest and robust side impact protection of the Safety 1st child safety seat
Portable and lightweight
Robust safety features
Great for small cars
checkMachine washable pad
Few range of colors to choose from
While the airline wont charge you to check in your child safety seat, lugging around a heavy convertible seat is not the best of experiences.However getting a balance between safe and convenient has often led to safety seats that are for lack of a better word just a pain if you travel a lot or even if you are just tired from a long commute. But did you know that you can get an FAA Approved car seat that weighs in at only 9 pounds? Yep the Evenflo Tribute LX weighs in at 9 pounds making it the lightest FAA Approved seat for travel we review.
The Evenflo Tribute LX provides excellent safety standards despite being the most lightweight car seat, as it has met and exceeded most Federal crash safety standards
This is a great child seat for the growing child from toddler and upwards as it comes with multiple harnesses that you can easily adjust for comfort and fit as the child grows
You do not have to worry about the child making a mess and dirtying the seat as the Evenflo Tribute LX has a machine washable pad that you can easily take off whenever it gets dirty
You can make the seat even lighter by removing the head pillow if you are using the seat for older children who may not need the pillow
Lightweight car seat
Machine washable Pad
Extended use with adjustable harnesses
checkExcellent Safety Standards
Ugly seat even if it does its job
Britax Marathon G4. 1 Convertible
Safe and Easy Installation with Latch
Even as a portable or lightweight FAA Approved seat is important, sometimes you just need a seat that is not only safe in airplanes but also for use in the car where you will definitely be using it more oftenMost car seats will either do one or two things really well, but a seat that does more than that is definitely better. However, such a seat is often more expensive given that it provides not only convenience but also safety.
"All Britax harnessed car seats, including infant car seats, convertible car seats, and combination harness-2-booster seats, are certified for use on aircraft. Belt-positioning booster seats (backless booster seats) are NOT FAA approved and should not be used to secure your child on a plane."
Enter the Britax Marathon G4. 1, the safest and best travel car seat for infants as it is a car seat that you can use it for your newborn and older children in both the rear and forward facing modes.It is quite a fancy child safety seat from the biggest brand of safety car seats that not only provides safety for the child but also comfort and convenience for both the child and the parent that is using the Britax child seat.
If you are looking for safety, then this is it as it provides your child with superior protection and safety through its steel frame, impact absorbing tether and the integrated Safecell Impact Protection system
Your child gets to enjoy enhanced comfort and safety through an easy to adjust 12 position harness which makes the seat an excellent choice for long term use
Safety sometimes has all to do with installation and this is where the Britax Marathon G4.1 excels with its easy to use LATCH system that you can easily unlock and lock into vehicle seats and install on a plane with the push of a button
If you are worried about side impacts then worry no more as the car seat is the best when it comes from frontal and side impacts as the deep energy absorbent shell and tether will shield the child from most severe impacts.
Made by trusted brand
Enhanced safety and comfort
Excellent side and frontal protection
checkEasy installation with Clicktight
Rather heavy because its built like a tank
Button hard to access
Sometimes you just want that one car seat that you can use for everything not just for when you are traveling on an airplane. But truth be said there are very few seats that come close to being multipurpose car seats.
As I have previously said, trying to make a car seat good for everything is tough and oftentimes can make the safety seat quite expensive. This means that most of the FAA Approved seats even the ones on this list do just one thing very well.
Well except for the Graco 4Ever All in One child seat which is the best car seat for air travel on the market hands down. Apart from being the best convertible car seat, the Graco is also the longest lasting car seat that happens to be FAA Approved.
The Graco 4Ever All in One is a 4 in 1 car seat that your child will use right from when they are an infant, to toddler and when they transition to harness boosters and finally to seat belts as a teen.
The kid can ride in safety and comfort having their snacks and drinks close at hand through the dual cup holders and reclining in comfort from six recline positions and plush inserts that your younger children really do need
The Graco 4Ever All in One FAA car seat provides easy installation and adjustment for you through the simply safe adjust harness systems that makes this the easiest safety seat to use for even the first time parent
Even as the toddler airplane seat lasts for up to ten years you do not have to worry about it getting dirty as in addition to the plush fabrics, the seat pad is machine washable for its lifetime of use
Unlike the other child safety seats on this review, the Graco comes with deep seats which makes it excellent not only for the infant, but also the older toddler who may not fit in the smaller car seats
You can rest assured that your child is secure and safe with the Graco 4Ever as it has undergone the most rigorous testing to ensure it is durable and strong and that it protects the child from the most severe crashes
Safest car seat for travel you could buy
Provides Ultimate comfort for the kid
Easy adjustment and installation
checkLongest lasting car seat
Swallows small items such as pacifiers
Excellent as it is, it is expensive
While some parents may prefers the bells and whistles in their car seats, in some instance a bare bones FAA Approved child car seat will do just fine, if you can find it.
In the quest to make the best multipurpose safety seat, the manufacturers seems to have forgotten about the budget consumer who just needs the car seat to transport their child in the airport and keep them safe while on the plane.
However, there is one brand, the Cosco Scenera NEXT that fulfills this very niche being the very best of the affordable FAA car seats on the market.
I got to warn you that while it is an FAA approved car seat, it is the last option I would go for, if I was traveling with my kid since its ratings on comfort, convenience, and safety are just so so
If you are looking for an affordable FAA Approved car seat then the Cosco Scenera NEXT is definitely it. Of all the car seats reviewed on the list, it comes at the cheapest price though it has to be said that it is a no frills car seat, After all you get what you pay for.
It is the best car seats for airplanes as you can easily carry the Cosco Scenera NEXT around the airport as it comes at only 11 pounds which makes it the second lightest car seat I have reviewed
Toss this car seat into any child seat transporter and you are ready to go. Unlike some seats that have to be put in specialty carriers, virtually any transporter is a good fit for the Cosco given its small dimensions
The Cosco Scenera is adjustable to some extent as it has four harness positions. However for the most part it is a stiff car seat to move the child from point A to point B cheaply
Lightweight portable car seat for travel
Most affordable FAA car seat
fits in all car seat transports
Not very adjustable
Made of low quality materials
FAA Weight Recommendations for Airplane Travel
More that 40 pounds – Airplane seat belt
22-44 pounds – CARES Child Restraint System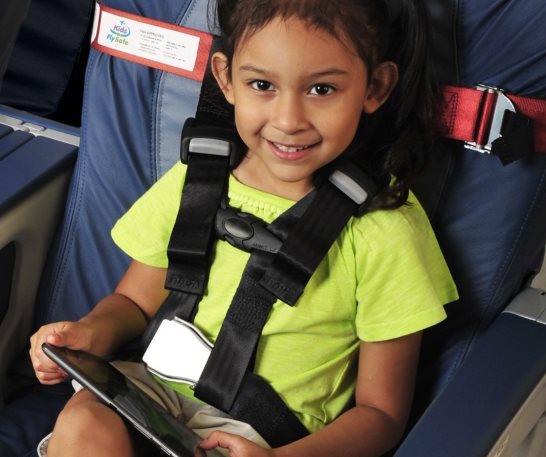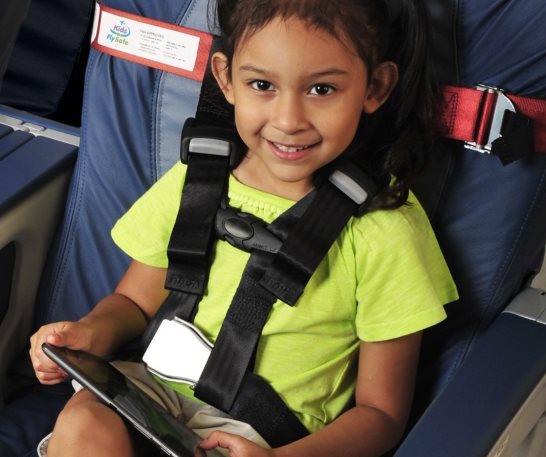 According to the FAA regulations and laws on car seats the CARES Child Safety Restraint which is the only FAA Approved child restraint recommended by the FAA for children weighing in at not less that 22 pounds and not exceeding 44 pounds.
If you want a light alternative to hard backed child safety seats, then this is what you need to buy. However you need to remember that the CARES Child Safety Device is only approved for use in aircraft and never in motor vehicles.
If you buy this child safety restraint device ensure it has the sticker written "FAA Approved in Accordance with 14 CFR 21.305(d), Amd 21.50 6-9-1980, Approved for Aircraft Use Only" on it or "FAA Approved in Accordance with 14 CFR 21.8(d), Approved for Aircraft Use Only"
Never have to worry again about installation and fit as the CRS is a great fit for almost any size of seat on the plane as it is for the most part made of adjustable straps
Instead of toting along a bulky car seat, just toss the CRS into  a backpack or even a handbag and you are off. You dont have to worry about pounds of car seat weighing you down.
Unlike some seats which have restrictions on age or height and weight limits, the CARES child car seat is a great fit for children of any age except for infants below age 1
Lightweight Car Seat
FAA Approved restraint
Fits most plane seats
checkFits all children above age 1
How to Install a the Child Safety Seat on the Plane
. Follow these instructions to install your aircraft approved car seat relatively fast and easily.
Recline the airplane seat back
Thread the belt through the safety seat belt path. Cinch the belt with the buckle flap facing the aircraft's seat back making it easy to release.
Tighten the seat belt and raise the back of the seat
It is always best to install the aircraft baby seat the same way that you install it in your vehicle.
If the passenger sitting in the front seat complains that the seat prevents them from reclining, politely tell them that your baby will sleep better and will not disturb them by kicking the the seat.
You need a greater deal of time and attention installing a forward facing car seat than you would a rear facing one
Best FAA Approved Car Seat: Safety 1st Guide 65
Out of the FAA Approved car seats the Safety 1st Guide 65 is the best car seat with its small size, adjustable headrest, side impact protection and 5 point harness.
Related Links
Best Travel Stroller for Airplane
Why Car seats are not mandatory for children under two