Child in Infant Car Seat
With Consumer Report issuing new guidelines that indicate that it is safer to switch to a rear facing car seat, the following are some of the things that you need to know.
While it can be quite exhilarating to switch from infant car seat to convertible, you need to exercise caution to keep your child safe. You can also make sure your child is safe while sleeping by checking out our post about Wumblers packable bassinet.
The biggest question is  infant car seat vs convertible car seat which one is best for your kid and at when to switch from infant car seat to convertible?
With rear facing is a commonly accepted standard for any child below the age of two, consumer reports testing has reinforced the importance of keeping your child in rear facing but also determined that it is safest to switch from an infant car seat to a convertible car seat when your child is a year old.
In their experiments, researchers tested a rear facing convertible car seat and rear facing infant car seat using a 22 pound dummy.
In 50% if the tests, they established that the dummy's head would hit the back of the front seat as opposed to only one in the 25 convertible car seats which had the same result. 
The issue is that once the head of the child is less than an inch from the top of the outer shell of the infant seat, there is an increased risk that they will hit their head on the back of the front seat in the instance of a crash.
This usually happens when the child is approximately a year old or more old.
This means that you need to switch the baby from the infant car seat to a convertible by the time they are a year old even if they have not exceeded the infant carrier's weight and height limits.
First things first what are the differences between the two types of car seats?
​Infant Car Seat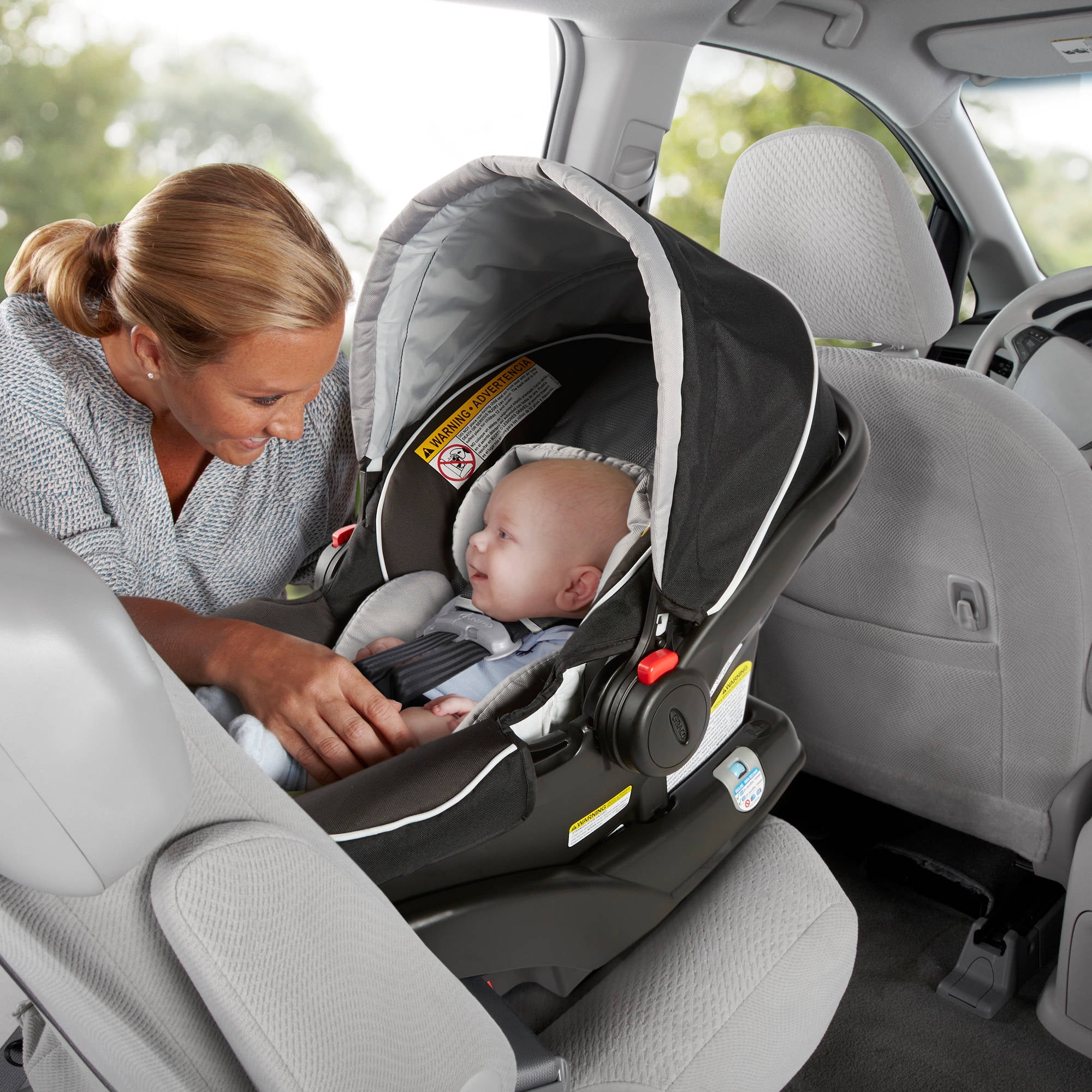 Baby in Infant car seat
While there are many convertible car seats out there that are suitable for your child from birth to toddler and even until they start using vehicle seat belts, most mums will go for the cheaper infant car seat.
The infant car seat sometimes referred to as a bucket seat has several things going for it.
It has been made for the smallest of babies and can only be used in the recommended rear facing mode which will give you peace of mind while traveling with your kid
Another thing it has going for it is that it is very light which makes it very handy when you need to get that sleeping child out of their seat without waking them up
Unlike your convertible car seat, the best infant car seat can be unhooked easily from its base and installed on a stroller or carried into the house which is quite convenient
However, being the small car seat that it is, the kid tends to outgrow it very fast and you may have to buy a new car seat by the time your baby is a year old.
​Convertible Car Seat
Toddler in Convertible Car seat
​Just like the infant car seat, the toddler car seat also has its own advantages. For one,
you can use the best convertible car seats from birth right through to when they are toddler until age 12 when they shift to using car seat adult safety belts
As such if you bought a convertible that can be used in rear facing forward facing for children from from the age of 2 and as harnessed booster seats from 8 years, you may use one car seat to last a child through their car seat years
.
When to Switch from Infant Car Seat to Convertible
When the Child Maxes Out the weight Limits of their Seat
Infant Car Seat Weight Limit Label
​The good thing about car seats is that all of them will typically come with weight and height limits. It is important that you read your car seat owners manual and have a thorough understanding of it before you put it to use.
You need to be ready with a convertible car seat when the child maxes out the weight of their car seats which is typically between 22 and 35 pounds depending on the brand.
When the Child Maxes Out the Height Limit
​Similar to weight limits, a car seat also has height limits that you need to adhere to. You need to read your car seat owners manual and follow it religiously to ensure your child is safe.
In most instances the kid will exceed the height limit before their weight limit. The best  infant car seats of 2018 will usually have a height limit of about 29 inches.
​You need to switch the child into a convertible car seat when they attain either the weight or height limit of their infant car seat. Always switch the kid onto a convertible car seat when they attain the maximum height of the car seat (about an inch from the top) regardless of whether they have maxed out the weight limit.
Sheryl Brown
When it is no Longer Convenient
Baby too big for Infant car seat
​At a certain point in time your child will grow heavy enough that lugging the car seat around will begin to take a toll on you.
Even the kid may not have attained the maximum height or weight limits.
A solution at this stage may be leaving the car seat installed in the car as you would with a convertible car seat.
However, if the child also seems to show signs of being uncomfortable in the infant car seat such as crying a lot when they are in their seat it may be that they are cramped in the little seat. 
​If you have read up on the size and weight limits of your seat and found out that the child still has some way to go before they are too big for their seat, you may still switch them over to a convertible car seat if you feel that it would make them more comfortable.
As long as you switch them to a car seat that is installed in rear facing mode, they should be fine.
Nonetheless, it is always safer to keep the infant in the bucket seat for at least a few months and shift them to a convertible car seat when they are at least six months or older.
A convertible car seat will last longer saving you money and reduce child tantrums as they can look outside the window which can serve as a good distraction while you are driving.
Infant Car Seat Versus Convertible Car Seat: What Should You Go For In 2018?
convertible car seat
VS
convertible car seat
Are you totally befuddled on whether to go for the infant car seat or the convertible car seat?Well you are not alone, I still remember that time when I was heavy with my first child and could not decide on what seemed like hundreds of choices.While some parents swear by the infant car seat and others by the convertible car seat, your choice will typically come down to what you are looking for in a car seat given that each type of car seat has its own pros and cons.However, even as the convertible or the infant car seat has its own advantages and disadvantages.The most important thing to take into account is the needs of the newborn infant, which are typically very different from that of the toddler or older child.The following are some of the most important things to take into consideration when making the choice:
Fit to child – Most infant car seats will fit infants weighing in from as little as 5 pounds up to about 30 pounds. For most convertible car seats you have to use an infant insert to make them fit the newborn.
Incline Angle – It is generally recommended that you incline your infant at a 45 degree angle. Most infant car seats will allow for this angle making the ride comfortable for the child. Some convertible car seats such as the Britax USA Advocate, the Cybex Sirona M or Chicco Nextfit 2018 have angle recliners to achieve the recommended angle. Most convertibles will however need you to use blankets to achieve the angle and is not be as safe or as comfortable.
Harness Tightness – For your infant it is very important to have harnesses with the right tightness, typically you want 5 point harnesses that are tight enough to pass the pinch test. Most convertible car seat harnesses are too long to fit the tiny infant making them unsafe.
Strap Positioning – Just as important as the harness tightness. You need a car seat that has straps that are positioned at or just below the child's shoulders. Given the newborn infant usually has a torso about 7 inches, you need a car seat whose lower strap slots can fit that torso length.
Pros of Infant Car Seats
Infant car seats come with a base and hence they can be easily snapped in and out of the car, making it possible to lug the car seat with the infant in it.
Offers the perfect fit for even the smallest of babies up to a minimum of five pounds.
You can attach it to a stroller and jog or walk around with the child
You can lug it around without awakening the child and go into restaurants or even into a plane with utmost convenience
Cons of Infant Car Seats
Given that it typically has lower height and weight limits, you will typically require a convertible or all in one car seat before the child turns two years which adds to costs
Pros of Convertible Car Seats
Reduces costs particularly if you are on a budget as you only need to buy one car seat that your child will use for several years
Most convertible car seats are suitable for children from 5 pounds and above and turn from rear facing to forward facing to accommodate the needs of the growing child
Cons of Convertible Car Seats
Do not come with a base and hence installing or uninstalling them from the car can be quite an inconvenience particularly if you do it often.
Some of the large convertible car seats do not provide a good fit or angle for the newborn child making them relatively unsafe and uncomfortable
They are very heavy, making it almost impossible to lug them around as you would an infant car seat
They cannot be attached to a stroller for use when jogging walking or doing other tasks
With no base, installing will normally awaken the sleeping child
My Take on What Car Seat You Should Buy
Even as consumer reports recommends that you switch to an convertible car seat sooner rather than later, you can still enjoy the benefits of the infant car seat while still keeping your child safe.Even as you have to spend more money when shifting to a convertible car seat later, the convenience of an infant car seat is worth the money.
So when to switch to convertible car seat?I would recommend that you buy the infant car seat and later buy the convertible when the child is exceeds the weight and height limits of their infant car seat.Moreover, you can get a travel system cheaper this way as the stroller and infant seat will typically come at a lower price when combined.
Video on How to Do the Pinch Test
Now you know when to switch from from infant carrier to car seat. If you have any questions leave a comment below.
Related Links